Supportive Housing – a gift that lasts a lifetime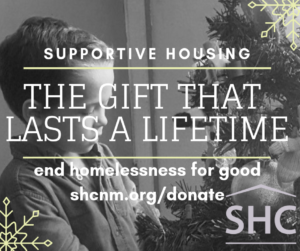 The holidays are often the time of year we not only reflect on the blessings we receive, but work to help those who may be less fortunate. We donate toys, coats, or canned goods. We serve holiday meals. We donate money to make sure less fortunate individuals and families are taken care of during the holidays.
SHC wholeheartedly supports the efforts of all those hoping to ease the lives of people in need. This year, we urge you to consider making a gift that will last a lifetime.
As a provider of supportive housing services, SHC is informed by and utilizes the housing first approach to ending homelessness. It is an evidence-based approach that first provides essential, safe, and secure housing and therefore provides an ideal platform for the delivery of health care and other social services focused on improving life outcomes for individuals and families.
With housing first we recognize that people need basic necessities like food and a place to live before attending to other needs such as getting a job, going back to school, or receiving mental health or substance use treatment. Housing first does not require recipients to prove their sobriety or enroll in  services as a condition of receiving housing. However, we find that once stably housed, many people choose these services so they can be successful in their housing and improve their overall well-being.
The benefits of this approach are many:
Immediately providing a home for someone with mental illness or a substance disorder enables them to escape their long nightmare of homelessness and ultimately saves their life – it immediately removes him or her from the streets reducing their risk of assault, risk of infection, disease, and death.
People who are stably housed decrease their use of crisis services such as emergency rooms, hospitals, and jails and therefore serves to lower public costs.
Stable housing allows individuals to take steps needed to heal and thrive. Individuals and families are now able to seek additional education or skills training, find employment, become better parents, and contribute to the community.
Because housing first honors individual choice and self-determination regarding where they want to live and which services they want to pursue, their dignity is restored.
These benefits go well beyond the holidays, lasting for years or even a lifetime.
Please help SHC continue in its mission to end homelessness for good for hundreds of individuals and families that have experienced homelessness. Your gift of supportive housing is a gift that will last a lifetime.
Visit www.shcnm.org/donate to make your contribution.