SHC-NM and the Albuquerque Heading Home Initiative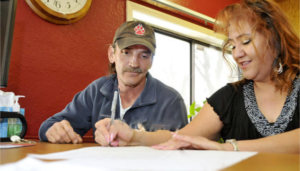 SHC-NM and the Albuquerque Heading Home Initiative
Supportive Housing Coalition of New Mexico is the provider of housing for Albuquerque Heading Home (AHH),  a unique collaborative initiated by the City of Albuquerque and Mayor Berry designed to address chronic homelessness. Our organization works with the collaboration to immediately house the most vulnerable citizens of our city without duplicating services. The coordinated effort of multiple partners specializing in outreach, referrals, housing, case management, and other supportive services allows SHC-NM to do what we do best, place people quickly and efficiently in safe and affordable housing.
So what does it mean to provide housing for AHH? SHC-NM is responsible for managing the housing vouchers for the program. Upon referral to our Community Housing Program, applicants meet with our highly qualified Housing Specialists who ensure eligibility of the applicant, conduct intake assessments, provide apartment options, calculate rent, approve the unit, establish and maintain relationships with landlords, conduct unit inspections, schedule and conduct the lease signings, and provide support to the newly housed participant.
Since 2005, SHC-NM has worked with over 338 landlords in the metro area and currently has working relationships with 150 property managers across the metropolitan area who accept the housing vouchers. Once housed, SHC-NM collects the tenant portion of the rent, if any, and then pays rent directly to the landlord. This helps us maintain regular client contact and assures the landlord that rent will be paid.
Ongoing support is crucial to the success of our clients. Housing inspections are conducted at six months, one year, and annually thereafter. SHC-NM conducts ongoing communication and coordination with service agency staff to discuss needs and issues of participants as they arise and develop action plans if needed.
SHC-NM has successfully operated the City of Albuquerque rental assistance program since its beginnings in 2005 and the AHH initiative since 2011. We have played a critical role in ending homelessness for hundreds of participants with a 90% success rate in housing stability. We are proud to be a part of this highly successful effort.