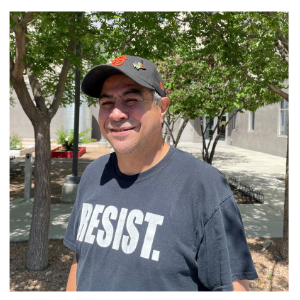 TO SHCNM
I say Thank You
For giving me
The Ability
And
Freedom
To
Find ME
Through
The Stability
Afforded Me
For
Once Given the Chance
To Thrive
And not Merely Survive
Having
The Veil Lifted
From My Eyes
Growth thru Knowledge
And Blessings Realized
~ Robert C.
Last year, right before COVID shut down life as we knew it, Robert transitioned from a life of, as he describes, "living as a vagabond" for 20 years to being housed at SHC's Downtown @700 apartment community. Since then, Robert's life has taken an amazing trajectory. After committing himself to a life of sobriety, in December of 2019, he has undertaken a daily regimen of exercise, meditation, learning, and writing poetry. "I credit being stably housed for all I have achieved this year," he states. "I couldn't have done all I did. And I have a lot more to offer."
Robert's enthusiasm for life is infectious. As part of his own self-care, Robert takes long walks with his dog, does 100 push-ups a day, and takes natural supplements. Moreover, Robert has a voracious appetite for learning, always reading, researching, and meditating on what he has learned. Then he writes. His poetry is personal, political, and deeply honest. He published several of his poems in The Nomad (formerly Two Way Street), a community-based publication providing job opportunities for people experiencing homelessness and poverty in Albuquerque.
Joanna Scott, editor of The Nomad, describes Robert as an "autodidact" and "multi-potentialite," in that he has a genuine love of all things and wants to learn as much as he can. "He's come through a lot of struggles and he is actively choosing to continue to grow and shape this artistry he has developed," Joanna says, "he is not afraid to think outside the box and recognize his own value. He was once voiceless and being able to share his art with the world has really empowered him." He also believes in the paper that has given him this opportunity to share his work. "Robert is exceptional at helping people understand the mission of The Nomad. He is the most successful vendor of all time, even during COVID."
At The Nomad, individuals purchase copies of the publication and then sell it for a suggested donation as a street vendor to earn money. While Robert has earned money selling the publication, he wanted to sell a product of his own, one he could take personal pride in. With the help of The Nomad and "with important people helping me," Robert published his own book of poetry, "Re-Invention: Welcome to My Game." He plans on selling his book on a donation basis.  His first release party took place very recently, on his birthday, and plans on having several more opportunities to showcase his work and sell his book in the near future.