New DT Mart at Downtown @700-2nd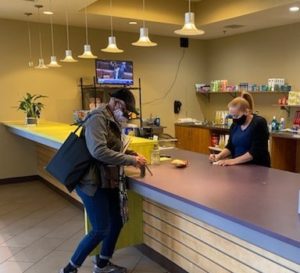 It started out as a simple idea, then a brainstorm, and then a full-fledged plan. Downtown @700-2nd Apartments is a mixed-income apartment community owned and managed by Supportive Housing Coalition of New Mexico. In its lobby is a café space that has seen several cafés come and go over the years. After the vacancy left by its most recent tenant, Debbie Lozano, property manager, started thinking of ways she could utilize the space that would be cost effective and beneficial to the residents of the community. Then it dawned on her, "We should have a mini-mart!"
Debbie brainstormed some ideas with Jim Morgan, a resident of Downtown and an SHC board member. Together they pieced together the basic elements of the plan. Once they got the go ahead from director Charles Joslin they worked on their business plan and surveyed the other residents to find out what they would like to have available to them. "This is their store," explains Debbie, "we wanted to make sure we had items on hand that would benefit them the most." The items included snacks, personal care items, cleaning supplies, and of course, masks and toilet paper.
A majority of the people who live at Downtown @700-2nd do not own vehicles. The project was actually designed for people to live in the city and utilize public transportation to get to work and school. Once the COVID-19 pandemic hit, it became apparent that this was the perfect time to execute the plan for an on-site store. It would eliminate the risks of people having to utilize public transportation or enter stores to get much needed items.
The DT Mart officially opened on December 1. "These last couple of months have been a big learning curve," explain Jim and Debbie. They had to figure out what would sell, how to ensure stock of high demand items, and make sure people didn't wipe them out of available stock. "We had to start limiting people to two items at a time!"
The DT Mart has also been a place of community for residents who may have experienced some isolation due to the pandemic. Jim set up a "coffee club" in the area with a big urn of coffee. People donate what they can and coffee is served throughout the day. "Some people donate a quarter, sometimes we find a $20 bill in there," states Jim, "some of our market-rate residents just donate and don't take coffee because they know that there are people who live here that have fixed incomes and need it more than they do."
The mini-mart is staffed by volunteer residents from Downtown and SHC courtesy monitors. Items are priced intentionally low to keep things affordable to the residents. "Our intention is not to make a profit. All the money we make goes into purchasing additional stock," explains Debbie. Now that they are operational, Debbie and Jim are starting to dream about expanding. "We will continue to ask the residents what THEY want," says Debbie. In the meantime, Jim and Debbie are just happy they could turn their dream into a reality, a small idea that is helping people in a big way.
Click on a photo below to view larger.
Donations of items for the DT Mart are welcome and appreciated. If you would like to donate any nonperishable items including snacks, hygiene items, cleaning supplies, or paper goods, please email info@shcnm.org or call 505.255.3643 x1111.