SHC Spotlight: Our Maintenance Staff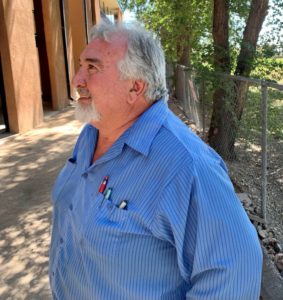 At SHC, we strive each and every day to impact the lives of individuals and families in New Mexico by ending homelessness for good. We've truly embraced an "all hands-on deck" approach to fulfilling our vision. In this issue, we are highlighting our maintenance team, a little known but essential part of our SHC family.
Debbie Davis, director of properties & asset management, explains, "The Property Management Department would be hamstrung without our stellar Maintenance staff. With little fanfare, the team works hard to protect our residents, staff, stakeholders, and our company. From replacing broken gates to keeping up the grounds, each and every one of the maintenance team are the bedrock that our properties depend on."
This crew often goes above and beyond to ensure the health, safety, and stability of our housing participants. One such unsung hero is Robert Dominguez, maintenance manager who oversees the maintenance crew for all SHC properties.
Alicia Morales, senior property manager, told us how one very cold New Years' Eve, a water line broke at one of the apartments. Robert stayed for hours that night until past midnight, waiting for the City crew to come repair the line. "He is so humble," explains Alicia, "he would never tell you about that."
Alicia reports that Robert gets there early every day and checks on the elderly residents. One day, Robert found a tenant who had fallen and broken his hip. Robert helped him get situated and then proceeded to clean so that when the tenant returned from the hospital, he would come home to a clean apartment.
For Robert, his position at SHC gives him an immense amount of pride, "I work with great people and great staff, especially the guys that help me day in and day out. One of my most senior maintenance men actually started as a volunteer 3 years ago; he just wanted to learn new skills. I eventually hired him and now he is my best painter and one of the most knowledgeable plumbers in the business. All of my guys go above and beyond to do things for the residents not included in our job description. Also, I work for the best property manager there is, Alicia Morales.
We spoke to Robert to get his perspective. 
How would you describe yourself?  
A simple man, trying to make a living and work for the people 
How did you get connected with SHC and how long have you been with us? 
I heard about the opportunity from a friend, applied, and was hired a couple days later. I've been with SHC for a little over 3 years. 
How do you see your role at SHC as serving our mission of ending homelessness by providing affordable, permanent, and supportive housing to individuals and families in New Mexico? 
By being prepared each and every day to make an impact by providing someone with a new place to live.  
What gets you out of the bed in the morning? 
The Good Lord 
Favorite place in New Mexico: 
 Las Vegas.  Hands down.