Welcoming Home Youth In Transition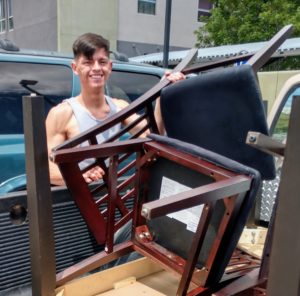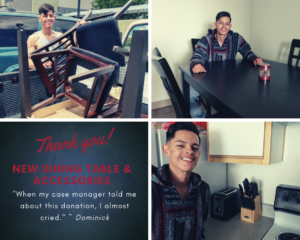 At our Welcome Home Fundraiser, three of the silent auction items were room ensembles donated by CORT furniture and bid on by luncheon attendees. A big thank you to Joell Ackerman of Heading Home who made the winning bid and promptly donated the dining room and kitchen accessories back to SHC for a newly housed client!
Dominick took delivery of his furniture on May 9 and was thrilled. "I didn't know how I was going to be able to pay for all the stuff I needed for my new apartment. Now I can afford to buy other things I need!" exclaimed Dominick.
Dominick is housed through SHC's collaboration with CYFD's TRANSITIONS Program and the New Mexico Behavioral Health Collaborative. The project provides independent, safe and affordable housing in the Albuquerque area to young adults who are involved with CYFD transition programs who need help finding and keeping a place to live.
"Housing has been a blessing and I know it will help with putting my life and family together," Dominick shared, "I am so grateful for the donation of the kitchen items and dining table."
TRANSITIONS is based on a Housing First approach that centers on providing rental housing first and services as needed. Participants get help to access and maintain their rental housing and have access to a variety of services to maintain housing stability. Participants are required to be a good tenant to keep their housing.
Our gratitude also goes out to Chuck Sheldon of T & C Management who bid on and won the living room ensemble and bathroom accessories and Joan Archibeque and Ann Martinez of U.S. Bank who secured the bedroom and bed linens package. These items will be received by families in our Casita Bonita and Housing First Family programs.