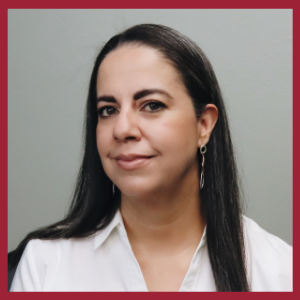 Here at SHC we work every day towards ending homelessness for good. We are proud that we have built a solid team of individuals that believe in providing New Mexicans with permanent and supportive housing. In this line of work, every day is different. Our participants have different needs and situations and we are happy to assist them on their journey to housing. It is incredible seeing how having a safe and secure home allows freedom to our participants. They no longer have to worry about where they are going to stay, they can focus on employment, family, and their health. 
Our September 2020 Hero: Alicia Morales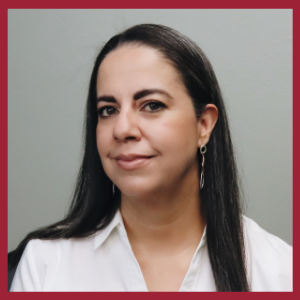 While every team member demonstrates their commitment every day, today we focus on Alicia Morales, senior property manager. Alicia has been with SHC for nine years as a property manager at Sunport Plaza Apartments. She was promoted to senior property manager last year and oversees the operations at SHC's apartment communities while, still managing Sunport.
Her commitment to and willingness to be involved in all aspects of SHC, from supporting our fundraising efforts to ensuring the individual success of all her tenants, has earned her the respect of the entire staff and the people she serves. Alicia is truly a leader and exemplifies SHC values in all she does.
According to Charles Joslin, director of housing development & asset management, "Alicia does great work and oversees all the properties and provides wonderful assistance to all our property managers. She is a great team player and extremely helpful to the success of SHC and our residents."
Alicia loves the gratification of housing someone and being able to provide them with a second chance. "I'm a firm believer that when people are provided with the basic necessities, such as permanent shelter, it is much easier for them to willingly want to seek help for themselves and easier for them to obtain a job or an education."
This commitment to housing is what motivates Alicia to work every day to ensure that participants are successful because she knows that housing is a basic necessity. "Throughout my years at SHC, through meeting people of all walks of life and hearing a variety of testimonies, I've concluded that life is challenging and your life can turn around in a matter of seconds. You may have society's definition of a "normal life", but something as abrupt and unexpected as a(n): accident, mental illness due to chemical imbalance, traumatic experience, disease, loss of a loved one, a job loss, etc. can lead you to losing everything. Despite the multitude of stigmas society holds, what people fail to realize is we are ALL susceptible to homelessness."
Our July 2020 Hero: Carly Miller
Today we are putting the spotlight on Carly Miller, Housing & Services Coordinator. We received a referral from the Westside Shelter for a family that really needed to get housed. The family had qualified for a rental assistance voucher but unfortunately, because of some previous evictions, they were denied housing at over a dozen different places even though they had paid off all their eviction debts. Carly had to come up with a creative solution to ending this family's homelessness. She reached out to one of our partner landlords who had a house he was planning to sell. She explained the family's situation, that they had been in shelter for five months and may end up losing their voucher if they didn't find a place to live. The landlord said, "Well, let me meet them." So, Carly came in on her day off to facilitate the meeting. The kids were so excited and the family was so nice, he couldn't say no.
Carly gets teared up whenever she talks about this family because they are so positive. "I check in with them to see how they are doing. It's such a joy to work with them." The eldest daughter says she is excited to celebrate her birthday – they couldn't do that in the shelter. They couldn't have celebrations or open their Christmas gifts so they had all their family's gifts in storage with family members until they found a place to live. Now the family is busy getting settled, reconnecting with family and friends. The Mom says that now that they have a stable place to live, "I can be totally focused on getting my kid's health back, work on their trauma, take time to be happy and celebrate birthdays and accomplishments. Our family is united. I can feel this tension I've been feeling in my body get released."
For Carly, working at SHC is all about the mission. "Our mission is making a difference, we can't give up. For our clients and people who need it, it's really important." Because of her efforts and dedication to her position, Carly has been helping her new participants settle into their new home. Thank you, Carly, for believing in our mission. We are proud to have you with us at SHC!