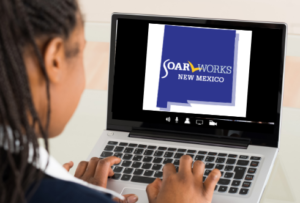 SHC SOARS! SHC Community Housing Staff Obtain New Certifications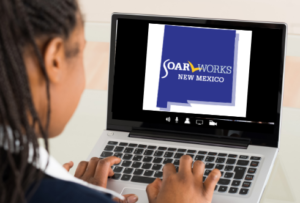 We are thrilled to announce that housing & services coordinators Sylvia Hernandez, Rada Moss, and Shurie Seeley as well as community services manager, Marisia Martinez have recently completed the Substance Abuse and Mental Health Services Administration (SAMHSA)'s SSI/SSDI Outreach, Access, and Recovery (SOAR) Certification Course to become accredited SOAR representatives for Supportive Housing Coalition. These staff join John Gauthier and Erica Barbi on SHC's SOAR WORKS Team.
Laura Chavez, director of community housing, has been certified since 2013. She now leads the SHC team as a New Mexico State Lead, which signifies SHC as a state Lead Agency.
Completion of this certification reflects these staff members' dedication to their own professional development and their commitment to providing as many supports as possible to SHC housing participants. It also makes SHC one of the most comprehensive SOAR providers in the state, with the greatest number of certified SOAR providers in one agency.
SOAR WORKS is a national program designed to increase access to the disability income benefit programs administered by the Social Security Administration (SSA) for eligible adults and children who are experiencing or at risk of homelessness and have a serious mental illness, medical impairment, and/or a co-occurring substance use disorder.
The program dovetails enormously well with SHC's mission to end homelessness for good. SOAR seeks to end homelessness through increased access to SSI/SSDI income supports, directly addressing the fact that in order to recover, people need a safe stable place to live. This is essential, and for many persons in recovery, accessing benefits is a first step.
New Mexico began implementing the SOAR model in 2009 and is one of four states showing the greatest reduction in the average number of days to a decision and is one of the top ten states with an average 82% approval rate. The New Mexico Coalition to End Homelessness (NMCEH) is the State Lead for SOAR. The NMCEH partners with local leads, such as SHC, in Albuquerque, Las Cruces and Santa Fe to coordinate regular SOAR Steering Committee meetings, recruit trainees, and organize SOAR trainings.
As a NM State SOAR Lead, Ms. Chavez works with other state leads, in partnership with NMCEH, to identify and implement SOAR outreach, train on updated protocols, attend regular meetings to collaborate with the SSA and DDS, recruit potential trainees, develop action plans, and access funding for and implement sustainability programs. Ms. Chavez is also responsible for data entry, analytics, and tracking outcomes.
SHC staff will provide SOAR services to participants in its rental assistance programs and at its low-income housing units at Downtown @700-2nd, Silver Gardens, and Chuska Apartments.